Invisalign® Clear Braces
Invisalign is an innovative orthodontic treatment option that allows patients to straighten their teeth with a series of removable, virtually invisalign aligners.
Straighten Your Teeth Without Metal Braces
One of the primary concerns people often have about dental braces is the aesthetic impact of the metalwork on their smile. Especially for adults, the prospect of wearing unattractive metal braces for long periods of time can be very discouraging.
How is Invisalign Different?
Invisalign treatment consists of a series of custom-made transparent plastic aligning trays. This means that when you wear them, they are very difficult for the people around you to see.
The clear trays are also fully removable. While this means that more discipline and commitment is required from the patient, it is not usually a problem since the trays are comfortable and nearly invisible.
Invisalign has been proven effective in both clinical research and in dental practices nationwide. Whether your teeth are crowded, too far apart, or have shifted since wearing braces, Invisalign may be a viable treatment option!
---
*The Diamond Invisalign Provider ranking is based on Invisalign use data and is not necessarily indicative of clinical superiority.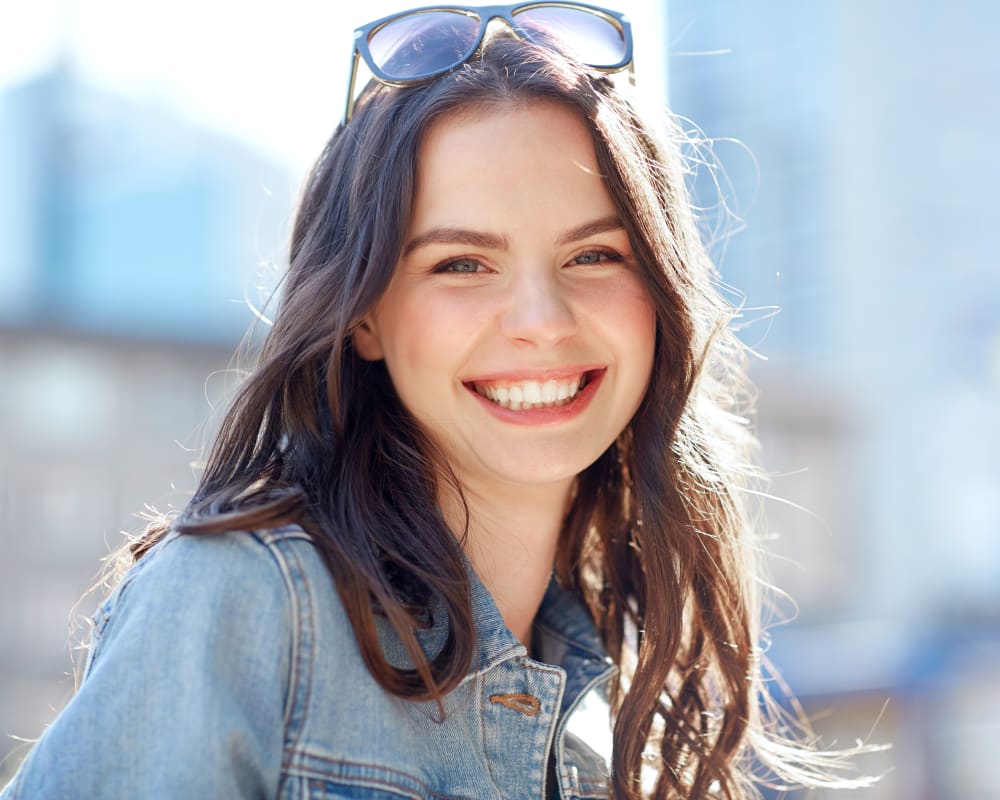 Creating Straight, White, Healthy Smiles. 
Clover Hills Dental is a Straight Smile Centres Member Practice, which means you can count on our general dentists to help you achieve the straight, even smile you've been dreaming of with clear custom aligners from Invisalign.
We're a Straight Smile Centres Member Practice.
The Invisalign Treatment Process
The dentist will start by devising an initial treatment plan, before creating the special aligning trays.
Three-dimensional digital images are taken of the entire jaw, which allow the dentist to move specific teeth on the screen, view the jaw from different angles, and also foresee what the face might look after treatment. 
Once planning is complete, a unique set of aligners is made. The total amount of aligners required varies with each individual case, but 20-29 sets per arch is typical.
Life with Invisalign
During treatment, your trays should be worn constantly, except when eating and drinking.
It is important to remove the trays when consuming food or drink because food can become trapped between the tray and the teeth, causing tooth decay.
You'll change to a new set of trays every two weeks. Over time, progress between appointments can be seen with the naked eye.
What kind of bite issues can Invisalign correct?
Invisalign corrects the same dental problems as traditional metal braces; the only difference is that Invisalign trays are almost invisible to the naked eye, and can be removed at will.
Here are some problems that are commonly corrected with Invisalign:
Overcrowding – This occurs when there is too little space for the teeth to align normally in the mouth.
Large gaps between teeth – This can sometimes occur because teeth are missing or because the jaw grows abnormally.
Crossbite – This common dental problem occurs when one or multiple upper teeth bite inside the lower teeth. 
Overbite – This problem occurs when the upper teeth project further than, or completely cover, the lower teeth.
Underbite – This is the inverse of the overbite; the lower teeth project further than, or completely cover, the upper teeth.
Ready to find out if Invisalign is the right orthodontic treatment option for you?
Fill out the form below to request a consultation.